Been a while since I've done a list and since in on a Jojo bender right now I figured why not make a list of my favourite stands because there sure is quite… a… lot. Anyway, this list isn't in any particular order I just listed them as I thought of them.
1. Horus
We didn't actually get to see a great deal of the "actual" Horus stand but we got to see it in action a fair bit. Horus takes the shape of a big icy bird-like skeleton which looks pretty cool. I think the main reason I like Horus so much probably comes down to how badass Pet Shop is in his fight against Iggy, I mean sure he dies but for the majority of the fight Pet Shop was pretty unstoppable and he pulled some pretty sweet moves.
2. Cream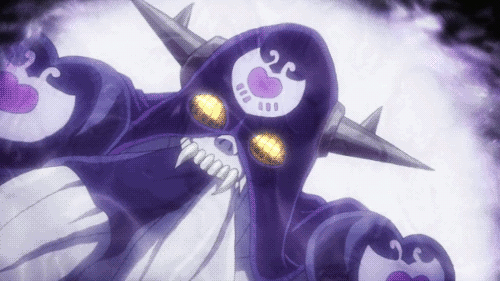 Cream is just weird, but also a seriously dangerous stand. For those how don't know, Cream has a void portal inside its mouth and anything it eats disappears forever (Itself and stand user Vanilla Ice notwithstanding). When Cream eats itself it turns into an invisible ball that erases whatever it touches making Cream a serious danger to anyone who isn't fast enough to work out how the stand works and to top it all of Vanilla Ice is literally immortal, so there's that. All in all, Cream is a serious danger that requires some serious luck to beat.
3. Hanged Man
For how lame Hanged Man's user J. Geil is, the Hanged Man has some seriously sweet moves. I thought it was pretty awesome how he could just jump from reflection to reflection, being invincible whilst in the reflection world. And with Hanged Man only having one short period of vulnerability, he really is pretty awesome. It's not till he starts jumping into peoples eyes when you really realise the gravity of his power, ultimately though, that's also his downfall. As a side note to those who know, I wonder if Hanged Man would appear in the same dimension as "Man in the Mirror" from part 5? I'm assuming so.
4. Death Thirteen
Death Thirteen is one of those stands who, with the right user, could have very easily defeated the Stardust Crusaders. It just comes down to the fact that Mannish Boy, the user, happens to be a baby is the reason why he was defeated. Well, that and that if he hadn't spent a great deal of time mocking Kakyoin he could have easily killed both him and Polnareff. Death Thirteens ability to trap people in a dream world makes it ideal for assassinating targets, with 13's ability to control every aspect of the dream world means that its impossible for the target to fight back. And on top of that, if the target wakes up they won't remember anything besides the fact that they had a bad dream. There's no doubt that Death Thirteen is a pretty awesome stand.
5. Hierophant Green
I wanted to include at least one hero character's stand on this list and when I was thinking about which one of the stands I like most I came to the conclusion that while Star Platinum is the usual fan favourite, being that he is super OP and could win almost any battle, It just seems too convenient. So I came to the conclusion that Hierophant Green was a better choice. The awesome utility of it being able to unravel itself, possess people and even its staple "Emerald Splash" attack is one of the few ranged abilities of the crusaders, Hierophant green is just super cool. I also really like the toxic waste hazmat style its got going, It just really "stands" out (pun intended) from the other stands in this part. I do want to mention how it is a little irritation how his abilities seem to change throughout the course of the series but that sort of thing isn't anything new to Jojo. Kakyoin is also just such a cool character and it really kinda sucked how we barely got to see him in any of the second half of the series.
Well, that's it for my list of my favourite stand from  Stardust Crusaders. Leave a comment below and let me know what some of your favorite stands from part 3 are. If you haven't seen or read Jojo's Bizarre Adventure before then I would strongly recommend checking it out. Thanks for reading
H
Don't forget to share and follow The Anime Accord on all the social site and visit our Patreon if you feel like supporting us. Arigatou.